The wernicke energyoptimisation LtD was founded in 2006 and is managed and owned by Heinz-Peter Wernicke (M.sc architect).
The Wernicke family has been engaged in construction, architectural works and carpentry since the 14th century, hence construction runs in the family blood since over 700 years and is based upon the experience of over 16 generations of builders.

It is with that background, that H.P. Wernicke is engaged since his early education in the ideas of innovative construction methods and materials.

He is accredited Member of the International Energy Agency (IEA)through the Federal Office for Economic Affairs and Export Control and Energy saving constructions within KfW Energy Program KfW. The company realized various projects in commercial (supermarkets, shopping malls etc.) and residential buildings (KfW 85 and KfW 70), refer to the list in "projects"

The Company is very innovative and open to exceptional solutions, our creativity allows us to adapt to any unforeseen challenge and to find creative answers to solve unexpected problems within time frame and budgets given.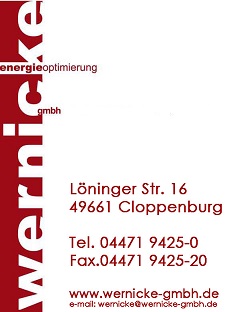 Heinz-Peter Wernicke
Graduate engineer. Architect